Mobile Website
The Ancient Ohio Trail (AOT) project integrates a mobile website, adapting the content of the full desktop version for visualization on mobile screens. Visitors can access our deep content using their smartphones and tablets while exploring the earthwork sites. The AOT mobile does not require app downloading or installation on the handheld device. It is accessed via any mobile web browser, and is already optimized to display the content more effectively on small portable screens.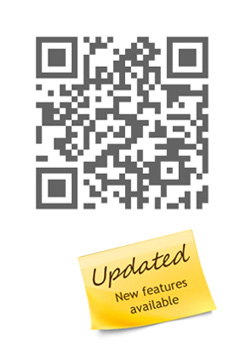 Scan the QR code with your smartphone to access the mobile website. Visit your app store to download a QR code scanner.
The mobile experience offers over 200 pages divided among the four main sites and the 12 routes, and includes information about the project, an earthworks timeline, the events calendar, and a series of thematic topics. An interactive map powered by Bing Maps presents up to 200 points of interest (POIs), to browse the content directly from the map. One of the exciting features of the mobile website is the favorites button, where you can pre-select interesting topics and make a personalized list of interests for future reference.
The interactive map can be accessed by tapping on the map icon, always present on the top menu or at the bottom of the screen. On the map screen, a lateral menu provides instant zoom for the selected site, route, or city, presenting the POIs available for exploration. Each POI connects to a page with additional information about the theme, complemented by pictures and graphics.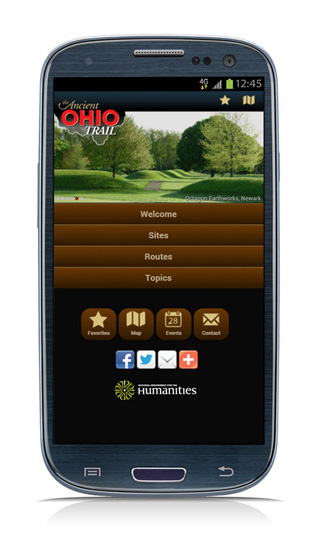 Experience the AOT sites and routes from smartphones and tablets.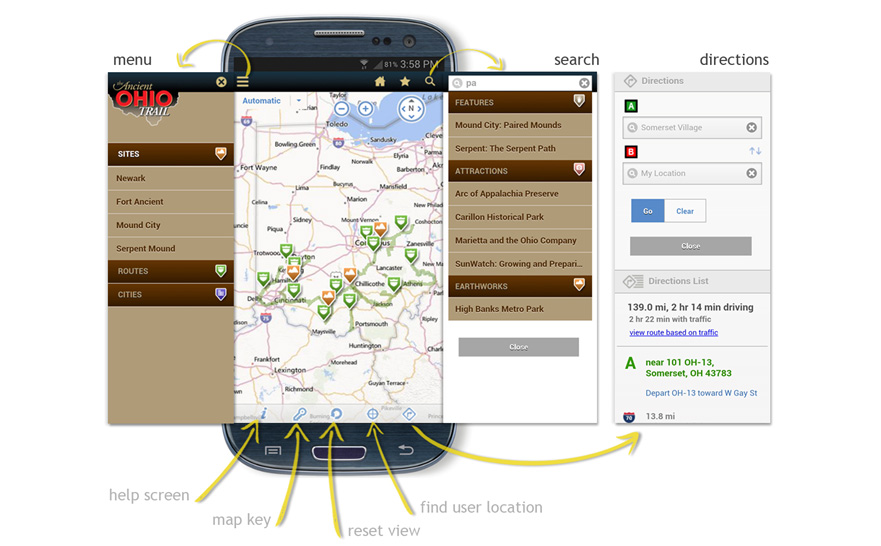 The interactive mobile map provides direct access to content with over 200 pins to explore and allows getting directions between points of interest.
The interactive mobile map includes a search function that enables research through the points of interest; narrow the options by typing the inquiry in a search box. An icon bar on the bottom of the map offers a help screen, a map key identifying the POIs, a reset view, a user location finder, and also customized directions between points of interest.